Supporting Environmental Transitions
The ACTES theme (Support for Environmental Transitions) addresses the scientific challenges linked to a rapidly changing environment under human pressure. Research focuses on atmospheric dynamics and its role on air pollution, the physico-chemical evolution of aerosols during their aging and the development of innovative processes with a low environmental footprint which aim to reduce atmospheric emissions. pollutants.
To address these environmental issues, in a multidisciplinary manner, in the field during national and international measurement campaigns or in the laboratory, the ACTES theme is based on the deployment of cutting-edge remote sensing tools for wind and aerosols (lidars). and physico-chemical analysis (electron microscopy, chemical speciation of fine particles, etc.), on the synthesis and characterization of materials, and on the development of digital methods at the best of the state of the art (atmospheric modeling, methods learning …).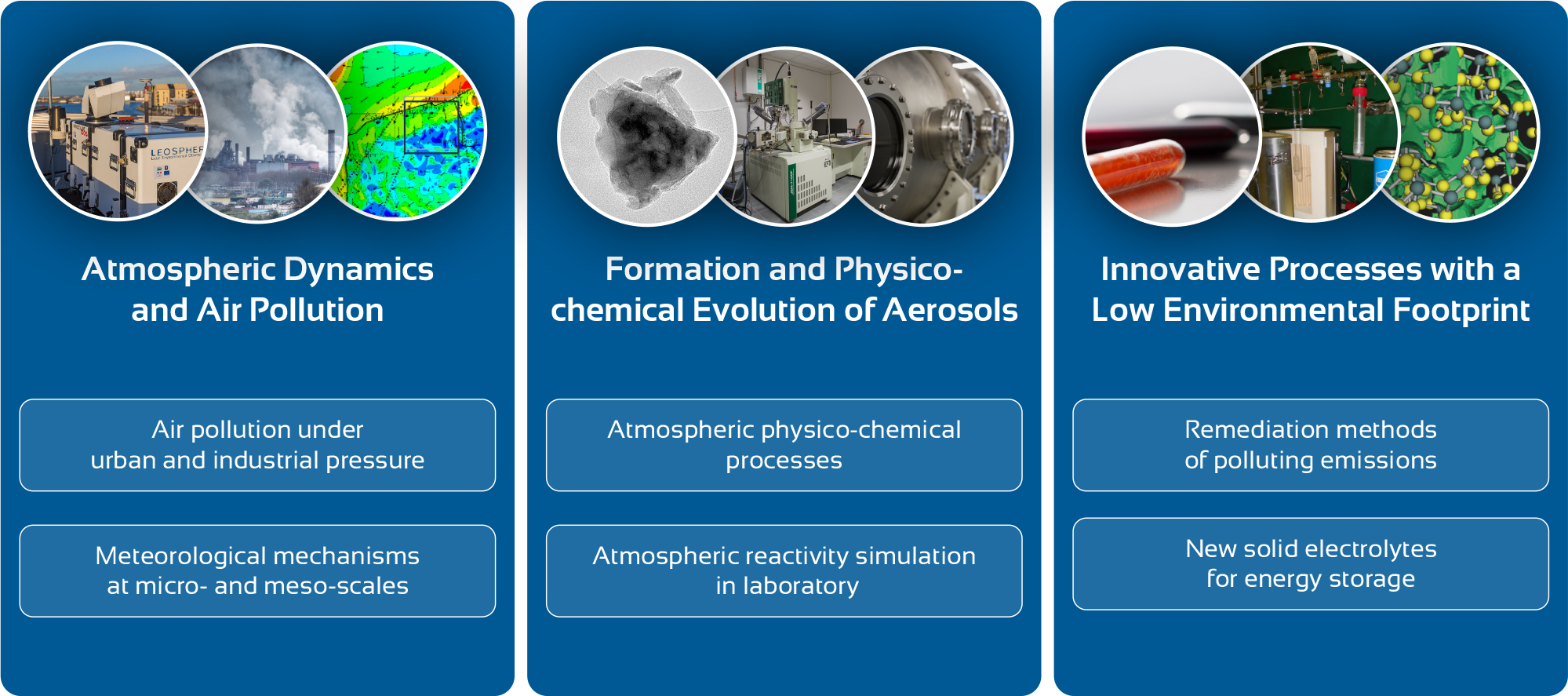 Atmospheric Dynamics and Air Pollution
Activities related to atmospheric dynamics in connection with air pollution mobilize our expertise in remote sensing, atmospheric physico-chemistry and numerical modeling to study meteorological phenomena of the smallest spatio-temporal scales (turbulence, breezes, jets, etc.) to continental scales (fronts…), and explain their impact on air pollution. To do this, we carry out multidisciplinary and multi-instrumented measurement campaigns, on multiple fields of investigation in France and abroad.
Our strength is to systematically approach the complex phenomena of air pollution both from the angles of atmospheric dynamics and physicochemical processes, with very high-level instrumentation and numerical methods. On a micro-scale, efforts are focused on the observation, understanding and prediction of small-scale dynamic structures (turbulence, breeze, jets, etc.), in order to ultimately assess their impact on atmospheric physico-chemistry, in particular vertical exchanges in the atmospheric boundary layer. On a mesoscale, the studies undertaken concern the understanding of the pollution peaks of the planetary hotspots of particulate pollution, as well as the background pollution in the troposphere.
Formation and Physico-chemical Evolution of Aerosols
Innovative Processes with a Low Environmental Footprint
| | | | | |
| --- | --- | --- | --- | --- |
| AUGUSTIN Patrick | IR | Instrumentation / Metrology | | |
| BOKOVA Maria | MCF (HDR) | Sensors / Modelisation | | |
| CHEN Weidong | PR | Instrumentation / Metrology | | |
| COEUR Cécile | MCF (HDR) | Reactivity / Metrology | | |
| CUISSET Arnaud | PR | Spectroscopy / Modelisation | | |
| DEBOUDT Karine | PR | Aerosols physico-chemistry  | | |
| DELBARRE Hervé | PR | Atmospheric dynamics | | |
| DHONT Guillaume | MCF (HDR) | Spectroscopy / Modelisation | | |
| DIEUDONNE Elsa | MCF | Atmospheric dynamics | | |
| DUFOUR Romain | TCH | Aerosols physico-chemistry  | | |
| FLAMENT Pascal | PR | Aerosols physico-chemistry  | | |
| FERTEIN Eric | IR | Instrumentation / Metrology | | |
| FOURMENTIN Marc | IR | Instrumentation / Metrology | | |
| HOUZEL Nicolas | IE (CDD) | Reactivity / Metrology | | |
| KASSEM Mohammad | MCF | Materials / Batteries | | |
| NGUYEN-BA Tong | MCF | Instrumentation / Metrology | | |
| SOKOLOV Anton | MCF | Numerical modeling / Machine learning | | |